Allied Healthcare Continuous Suction Regulator with Tubing Nipple Outlet, DISS Female Inlet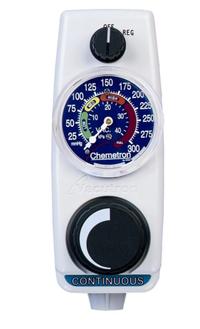 ***LIMITED QUANTITIES***
Allied Healthcare Continuous Suction Regulator with Tubing Nipple Outlet, DISS Female Inlet
The new, sleekly contoured Vacutron© is a precision engineered instrument that combines the most desirable features for suction regulators. Smaller in size, but big on benefits, it offers advantages that include:
· Color-coded Glow-In-The-Dark gauge face provides easy readability under any conditions. Gauge is secured by a screw for durability.
· Slimmer line saves space, yet model is more durable than ever.
· Easy access ON/OFF Soft-Touch knob gives full-line capability on the surgical model.
· Maintenance is easy. Clean by flushing with cold sterilant.
· 0-200 mmHg is achieved easily with minimal turning of the knob. Vacuum-limiting valve on the continuous model limits vacuum at 300 mmHg to prevent potential tissue damage.
· Weight-bearing brass post prevents case from cracking.
· New larger Soft-Touch knob for quick, fumble-free action. Exposed bottom allows thumb-wheel adjustment.
Part Number: 22-13-1207
Product Price
$499.00